Discover a world of learning and socializing opportunities for your homeschool teenagers with World Community Montessori. We are thrilled to introduce our selective enrollment options designed for homeschooling families with teens aged 12-17.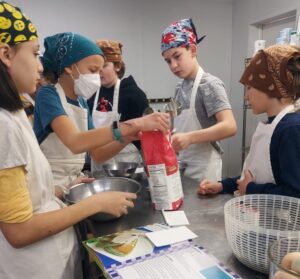 Experience an enriched academic environment that combines the best of homeschooling with hands-on, small group learning. Our unique program complements your homeschool curriculum, offering teens the chance to interact with other students in a nurturing school setting.
Choose to engage for the full academic year or select from our fall 2023 or spring 2024 semesters. Read more about our Class options. Register here.
Electives 2023-2024 Academic Year 
Art Class: Unlock creativity with professional artists, every Friday from 9:30 – 11 am
PE & Health Class: Active outdoor learning and health essentials, every Tuesday and Thursday from 2:00 – 3:15 pm
Woodworking Workshop: Craftsmanship lessons every Monday and Wednesday from 2:00 – 3:15 pm
Our classes at World Community Montessori will allow the students to relax and stretch their minds, bodies, and imaginations. Our flexible programming model will emphasize process over outcome, so students can grow art skills and gain knowledge in a nurturing, encouraging environment.