Discover a world of learning and socializing opportunities for your homeschool teenagers with World Community Montessori. We are thrilled to introduce our selective enrollment options designed for homeschooling families with teens aged 12-17.
Experience an enriched academic environment that combines the best of homeschooling with hands-on, small group learning. Our unique program complements your homeschool curriculum, offering teens the chance to interact with other students in a nurturing school setting.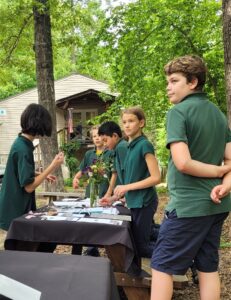 "Alone we can do so little; together we can do so much." — Helen Keller
Electives 2023-2024 Academic Year
Art Class: Unlock creativity with professional artists, every Friday from 9:30 – 11 am
PE & Health Class: Active outdoor learning and health essentials, every Tuesday and Thursday from 2:00 – 3:15 pm
Woodworking Workshop: Craftsmanship lessons every Monday and Wednesday from 2:00 – 3:15 pm
Choose to engage for the full academic year or select from our fall 2023 or spring 2024 semesters. See detailed descriptions below.
ART CLASS UNPLUGGED: REAL ARTISTS AS YOUR GUIDES
"Every child is an artist. The problem is how to remain an artist once we grow up." — Pablo Picasso

Our art classes, led by professional artists from Bower Center for the Arts, inspire your teen's creative journey, self-expression, confidence, community interest and artistic skills:
Bower Center for the Arts is excited to return as an educational resource for World Community Montessori. Our mission is to find creative ways to make the arts accessible to all, through our year-round exhibits, performances, and educational opportunities. Our programs foster creative expression; reflect and expand community interest; and encourage everyone to gather, connect, learn new skills, and gain confidence through the process of making and enjoying art. Bower Center believes the arts are an investment that creates community well-being.
 Photography-  September 5 – November 14 (Days off – 9/25, 10/23, 11/6-7)
In this class students will be learning the basics of Photography and Editing from award-winning photographer, Mrs. Skinner-Keith.
Clay Hand-building – November 21 – January 23 (Days off – 11/22-24, 11/27, 12/18-1/5)
Instructor Laurel Johnson gears this class towards experiencing many aspects of clay making. The students will create hand-built pottery and sculptures by acquiring basic skills of pinching, coiling, and working with slabs. Students will also be glazing all works with our studios array of colors.
Drama  – January 30 – March 20 (Days Off – 2/5, 3/11)
Instructor

Dana Tickle

introduces students to the theatrical arts by exploring a character through activities like pantomime, improvisation and effective speaking, using articulation, projection and breathing.
Painting  March 27 – May 31 (Days Off – 4/1-10, 5/6, 5/27-28)
In this course instructor Robert Keith introduces students to the basic principles and techniques of painting. Throughout the course, students will learn about painting tools, basic color mixing, composition, form, and spatial relationships.
Interested? Click here to see engagement options and express your interest. 
 PE & HEALTH CLASS EXPLORATIONS: MOVE AND LEARN TO BE WELL IN THE HEART OF NATURE
 "Life is like riding a bicycle. To keep your balance, you must keep moving." — Albert Einstein
Physical Education (PE) Tues/Thurs 2:00-3:15  Sept thru December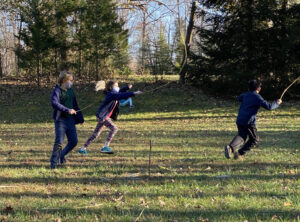 Enjoy our holistic PE activities, designed to get all students moving in a fun, inclusive and non-competitive environment. Games and sports encourage movement, promote group interaction, and most importantly, ensure that everyone has a great time.
Classes are held across our beautiful 80-acre campus, teeming with natural beauty and well-equipped facilities. Whether it's on the basketball court, the soccer field, or along our scenic nature trails, there's always a new adventure to undertake and new skills to learn.
Health Class Tues/Thurs 2:00-3:15  Sept thru December
Our health class covers vital topics, like Nutrition, Sleep, Screen Time, or Personal Hygiene. Our dedicated expert teacher Sara White is passionate about promoting a love for health and wellness among our students.
Interested? Click here to see engagement options and express your interest.
WOODWORK WORKSHOP CARVED OUT: SCULPT YOUR SKILLS
"You can't use up creativity. The more you use, the more you have." —Maya Angelou
Woodshop Class – Mon/Wed 2:00-3:15  Sept thru December (Mondays off  9/25, 10/23, 11/6, 12/18, 12/25)
Learn skills that can become a lifelong hobby. Our woodshop class will be planning projects, learning correct measuring and practicing with basic hand tools and small power tools. Teens will start with small simple projects such as a Chicknic table or bird house and work their way onto larger group projects including an octagonal picnic table. Join us and discover how to build your dreams.
Our dedicated woodworker and teacher Becky Holderbach is passionate about instilling craftsmanship and a love for woodwork among our students.
Interested? Click here to see engagement options and express your interest.
World Community Montessori Alternative Middle and Highschool
 World Community Montessori fosters a Love for Learning and a Love for Service, promotes Universal Values and offers a Quality Academic Experience. Our classes are small and mixed age to promote individual attention and growth, responsibility, and mutual support among students. Programs are hands-on and emphasize Life Skills. We always strive to find the balance between
Click here to learn more about our values, mission and approach.