"The mission of [a Montessori-based Middle School] is to provide a smaller, more personalized experience for adolescents in order to gain self confidence and self knowledge, to belong to a community, to learn to be adaptable, to be academically competent and challenged, as well as to create a vision for their personal future that is empowering."  Montessori Synergies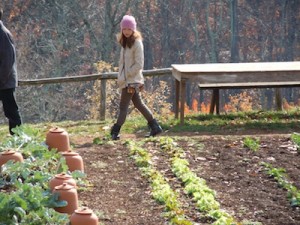 The World Community Education Center Middle school curriculum is designed to provide experiential learning while helping the student transition into the academically rigorous path to excellence in college. Students study core curriculum subjects such as:
Math
Writing
Literature
Foreign Language
Sciences
Social Sciences
Arts
In addition, Middle School students are introduced to the biology of learning and how to use this knowledge to develop individualized learning and study skills.
Building on their Montessori foundation, students continue their hands-on learning experiences, integrating skills development with content mastery through:
plant study
animal husbandry
environmental studies
biology, chemistry and physics projects
The interrelatedness of subjects in the world outside the classroom walls is explored through global environmental projects, community service in local non-profit greenhouses, and more extensive field trips to the wider community (e.g., Washington, D.C).