About our Founder
"Forty years ago I envisioned a school-for-life that encouraged a deep love of learning, respect for all people, created compassionate and visionary leaders for a global society faced with many challenges. It was my hope that students would be the living examples of deeply spiritual values such as compassion, patience, tolerance, justice, peace and mutual respect. I have seen the fruits of this vision come true and invite you to share this experience with us."–J.E.Rash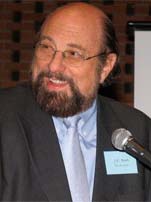 J.E. Rash, educator, lecturer, author, trainer and authorized teacher of Sufism, established the World Community Education Center in 1971 with a vision of providing a personalized and comprehensive education that nourishes children in mind, body, and spirit while preparing them to meet the challenges of an ever-changing world. Mr. Rash chose Montessori as the most relevant education method for developing the whole child in a way that respects the individual and his or her level of physical, mental, and emotional development.
Mr. Rash's career includes studies in the Montesorri Method at the Saint Nicholas Montessori Training Institute in London, in law, cross-cultural communication, and comparative religion; work in advertising and media; and the design of training programs and curricula for educators, parents, and youths.
He has traveled extensively throughout the US and to Greece, India, Israel, Japan, Mexico, Pakistan, Spain, Syria, and Turkey to lecture on education, conflict prevention and resolution, dialogue, democracy and civic education, and inter-religious understanding.  He is the founder of Legacy International, a non-profit organization dedicated to promoting peace by strengthening civil society and fostering a culture of participation worldwide. Legacy trains and mentors community leaders, youth, professionals, and governmental and non-governmental administrators, helping them to develop and implement practical, community-based solutions to critical issues.
Since 1979 Legacy has operated an international summer program at its Bedford campus in Virginia. The Global Youth Village (GYV) is a micro-model of the world community filled with the music, laughter, food, arts, and aspirations for humanity. Young people not only learn the languages and dialects of a diverse world, but also new languages like 'Change', 'Future', and 'Tolerance'.  The language that forms the basis of all interactions at GYV is 'Respect'.   At GYV, participants are immersed new cultures, taste fresh new foods, speak new languages, uncover their real selves, and discover that they become the change.
Starting with just 9 youth in 1979, the program has expanded and has reached over 4,000 youth from over 100 countries! GYV alumni circle the globe.  Global Youth Village is accredited by the American Camping Association.  Legacy International is affiliated with the United Nations Dept of Public Information.